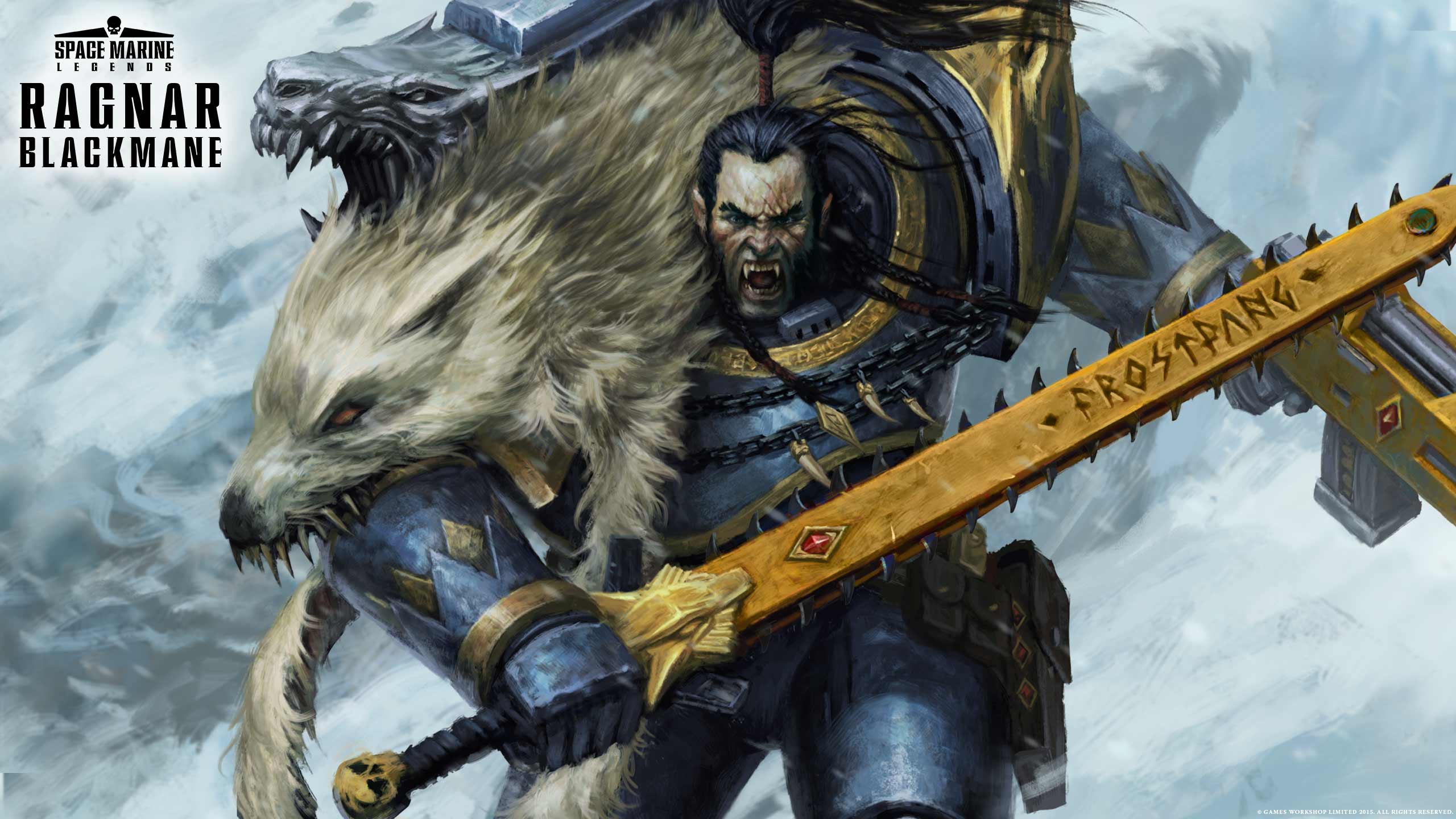 Ragnar regresa en otro de sus recuerdos de muchas páginas... y a un precio exorbitante.
Ragnar returns in another of his many thousands -I hope- pages of one memory... and with an exorbitant price.
Due to this post of Descanso del Escriba,I just notice that Ragnar Blackmane returns to the shelves of the Black Library under a new novel, simply called: Ragnar Blackmane.
Al parecer es ahora en Cadia donde regresan a él recuerdos de acciones pasadas que ahora están trayendo las consecuencias en cuestión, y dos capítulos más de marines espaciales están involucrados: los Ángeles Oscuros y los Desgarradores de Carne.
It seems that Ragnar is at Cadia and there, the memories of some past actions that now affects the present time, and two space marines chapters are involved: Dark Angels and Flesh Tearers.
Además de que me llamara la atención el regreso de Ragnar, personaje por el cual me enganché más con los Lobos Espaciales -además de la caballería de lobo trueno- me llamó la atención el precio de la novela: 65 USD que al tipo de cambio que andamos oscilando, sumando comisiones y envíos, nos arroja un aproximado de más o menos 1100 MXN, ¡Eso es casi la gasolina de mi coche por un mes!
Besides Ragnar's return -character who made me a full space wolves fan and complet the starting work of the TWC- something that shock me with this novel was the price: 65 USD that at the actual rate, adding comissions and transportation, would be more than 1100 mexican pesos (MXN). This is almost the gas for my car during one month!
No recuerdo la verdad si he leído algo de Aaron Dembski-Bowden, pero dada la última trastada de la Black Library, no estoy seguro si de verdad valdrá la pena. Lo cierto es que recordando pues, que quería hacer una armada temática de Ragnar y sus Drop Pods con algunos scouts -así como sucede en los libros- voy a reorganizar algunas minis que tengo y de las que me quedan pendiente e iré comenzando esto. La figura de Ragnar la verdad es que no me gusta mucho así que haré una conversión con el nuevo kit de los lobos espaciales y, de las drop pods, bienvenidas sean las de papel...
I don't remember if I had read something from Aaron Dembski-Bowden, but with the last shit of the Black Library about the Space Wolves I don't know if the book will be worth. The true is that I was considerating at the beginning to make a Ragnar-Drop Pod-Scouts army, just as the books but Ragnar's miniature is not a nice miniature, everyone know it so, with the new kit I will create my own Ragnar Blackmane army and, of course, with paper-drop-pods. Also I will reorganize some minis that are meanless on my Harald Deathwolf's Army.
Taken from chaptermasters.com
Además de esto, salió un relato corto de un nuevo autor de la Black Library, sobre la Deathwatch y los Lobos espaciales, ¿Algún recuerdo? Pues si, ya me lo temía desde hace varios meses. Ni que hablar, me falta mucho por aprender.
There is also another short one from the Black Library: Space Wolves and Deathwatch. Does this mean something? Yes, I already know it many months ago. Well, there is too much to learn for me.